The little one and I had so much fun making these Easter eggs. I originally found the idea for these eggs on Pinterest. Click
here
to see them. These eggs were so easy to make. All you need is glue dots (or any double sided adhesive) and glitter. For the grass I used an old book and cut about 7 pages into tiny strips. I then folded the strips backwards and forwards to make this crinkled look.
Put the dots anywhere on the egg and sprinkle on the glitter! Such a fun and simple way to decorate your eggs!
Click
here
to see how I made the stand.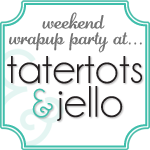 Linking up to tatertos & jello
crafty,scrappy, happy
,
Sumo's Sweet Stuff
delectable home
Dear Lillie